Looking to quit smoking but skeptical if anything can really help... and even worried you can't quit?
"Here is a Proven and Effective
Stop Smoking Program Available
In-Office or Online!"

A Private Quit Smoking Program Available for
the Hyannis and Cape Cod MA Region
with

Erika Slater, CH an experienced


specialist in smoking cessation.

There could be any number of reasons why you're looking to quit smoking now:
Maybe you've been smoking for many years or tried to quit before and you're worried about the loss of your health and you want to enjoy a better quality of life with your family and friends.


Maybe a life changing event happened to you and you suddenly realized the relationship you have with cigarettes has to stop so you can regain control of your life.


Maybe it was once cool to smoke with your friends but now you realize it's not so cool and you want to get out of the smoking trap before you lose your attractiveness to others.
You may also be wondering how hypnosis can help you quit. You may be skeptical if it can help and even if you can become a non-smoker. But to eradicate a stubborn and entrenched habit you have to do things differently. Pure and simple.
---
If you're serious, ready and committed to quitting then sign-up for a FREE Consultation with me about my private Quit Smoking programs by filling in the form below and pressing the green submit button, or call me at: 508.269.0109 now.
If want to learn more before signing-up for a FREE Consultation then continue to read to the end of this page. Otherwise, if you're ready now then fill in the form below and press the green submit button and let's get going. I can't wait to hear from you.
I respect your privacy and will never rent or sell this
information to anyone else. I hate "spam" as well.
See our Privacy Policy here
---
A Proven Program to Get the
Lasting Results You Want
Hypnosis has been successfully used for smoking cessation for over 50 years, and is a proven method.
Hypnosis is a natural phenomenon proving invaluable in eradicating damaging habits.
I'm Erika Slater and I've been servicing the Massachusetts region for 13 years. I'm located in Hyannis MA to serve the Cape Cod towns in my office, but also offer my services online if you can't get to my office.
I've been a professional and full-time hypnotist since 2004. I am certified by, and a member of, the National Guild of Hypnotists. But my expertise goes well beyond the requirements of certification.
I've been helping individuals stop smoking for over a decade. I've helped hundreds of people quit through my private and group smoking cessation programs.
Hypnosis so dramatically changed my life through helping me quit smoking after trying everything else, that I decided to help others enjoy being a non-smoker for the rest of their life.
Like I did you may be wondering why you haven't succeeded in quitting so far? The reason is simple and the remedy is easy.
The problem you face is to quit permanently you need to go beyond the methods you've already tried and which didn't work. Hypnosis is effective because it eradicates the actual habit which no other method does, but which is critical to you becoming a lasting non-smoker.
The Voice of Experience
There are other hypnotists that also perform smoking cessation in Massachusetts.
However, few hypnotists have ever smoked and even fewer quit using hypnosis.
But I'm different.
I smoked cigarettes for decades, and used hypnosis to end my cigarette habit and enjoy healthy living, and being in control of my life.
If I work with you to help you quit you should know I've experienced every emotion and frustration you have and overcome it using hypnosis.
This is an advantage to you not available from most other hypnotists who don't know what being a smoker feels like, or who've never experienced nicotine cravings or withdrawal, or concern over gaining weight... but I have.
- About My Private Programs -
Here's what's included in all my Quit Smoking Programs...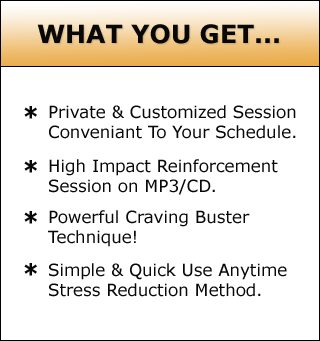 If price is the bottom line, then accumulate all your research and contact all those who are pitching low price to you. I am probably not the cheapest. But if it is important to you to work with an experienced smoking cessation hypnotist who will provide you with a proven program to quit smoking and with resources to stay a non-smoker, then please call me at 508.269.0109 or complete the web form below on this page for a FREE Consultation.
Disclaimer - Please Read: Hypnosis can't reverse the damage smoking has done to your health… but time can help you recover. And time begins to help recover your body immediately after your last smoke – you'll be surprised the big difference it can make in a small amount of time.
So there is no time to lose in making a decision to quit and contacting me today so you can start the road to recovery now!
If you've read this far then I know you're serious about quitting cigarettes. But I also know you're probably very busy and if you leave this page and don't take the next step now you'll probably never get around to doing anything about it.
And that would be a shame.
- YOUR NEXT STEP -
How to Get Started on
Becoming a Non-Smoker...
If you're serious about wanting to stop smoking then it's important you take the next step today by having a FREE no-obligation Conultation on the phone with me.

Simply call (508) 269-0109 or complete the web form below and press the green submit button.
If you phone then listen to the greeting about call back information, and leave your details it asks for, and I'll get back to you as promised in the timeframe.
So go ahead and take the next step on your road to stop smoking - and the next step is the most important one.
I respect your privacy and will never rent or sell this
information to anyone else. I hate "spam" as well.
See our Privacy Policy here
I service the following towns in Massachusetts
at my Hyannis Office:
| | | |
| --- | --- | --- |
| Barnstable | Falmouth | Sandwich |
| Bourne | Hyannis | Yarmouth |
| Dennis | Mashpee | |
Erika Slater, CH
Free At Last Hypnosis
Serving Hyannis & Barnstable County Cape Cod & Islands:
540 Main Street, STE 14B, Hyannis, MA 02601
Telephone: 508-269-0109 or 774-721-0052


erika@Smoke-Free-At-Last.com
www.Smoke-Free-At-Last.com

P.S. It's time to make big changes and now you know hypnosis will help you to stop smoking it's also time for you to take the next step by phoning me at 508 269 0109 or fill in the web form above.